To make your next visit even more rewarding, don't forget to make the most out of your benefits
Your Amazing Benefits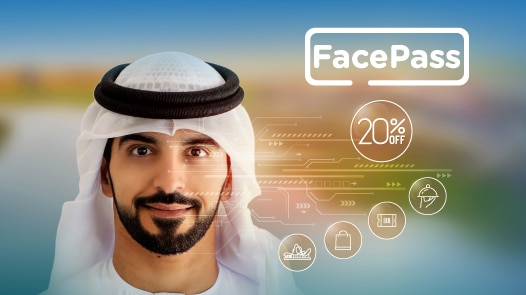 FacePass
Enroll now and receive an irresistible 20% discount on your first Food and Beverage purchase as a first-time FacePass user through the Yas Island app.
Upgrading

How can I upgrade my Annual Pass?
Silver Passes

What experiences are included in my discount?

Gold Passes

What events are included and how do I avail these benefits?

How can I redeem my CLYMB BOGO Voucher?

Where is the preferred parking and how am I entitled to this?

I have changed car, can I have a new Parking Sticker?

I have lost my preferred parking sticker, can I have a replacement?

How do I redeem my discounts & benefits at Hilton Yas Island, WB Abu Dhabi Hotel, and the W Hotel on Yas Island?

Diamond Passes

How do I redeem my bring a friend ticket?

How does the preferred Parking across Yas Island work?

How do I get my free pool access or room upgrade at Hilton Yas Island Hotel??

How do I get 25% off at Cipriani?
Renewals

I am an existing passholder, can I renew my same Pass?

Refunds

Do you offer refunds on Annual Passes?

Miscellaneous Questions

Do you sell Annual passes for Nannies?

Do you have any offers for People of determination?
Contact us
For assistance, please get in touch with us through Yas Concierge, call us from 8:00am - 8:00pm GST (Gulf Standard Time) or send us an email.